Area Info
Old Mission Beaches and Parks
Haserot Beach Park
This Old Mission Peninsula township park features one of the nicest beaches in the region and is very popular spot for day trips. Haserot Beach is located on Old Mission Harbor in the village of Old Mission and includes a terrific sandy beach, basketball court, playground, picnic tables and a restroom. The beach sets on a protected Bay in East Bay and is perfect for swimming. There is plenty of parking in the parking lot or on the road. The boat ramp consists of a dock and one ramp and is good for most sized boats.
Haserot Beach is located in the town of Old Mission, a quaint town near the tip of the Peninsula. Take Center Road North to a right on Old Mission Road. Go left a short distance to a right on Mission Road. Take Mission Road past the Old Mission General Store until it dead ends into Swany Road. Go right a short distance to the park. Click here for the map.
Whether you want to take a quick swim, have a picnic, launch your boat or make a day trip out of it, Haserot Beach on the Old Mission Peninsula is one place you will not want to miss. While you are out at the beach, let us know if you are intersted in homes and cottages with private East Bay Frontage on the Old Mission Peninsula. Click Here for more photos, details and a map to this beach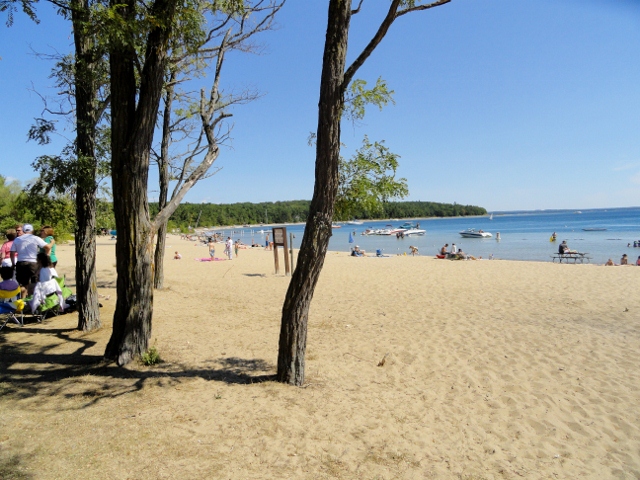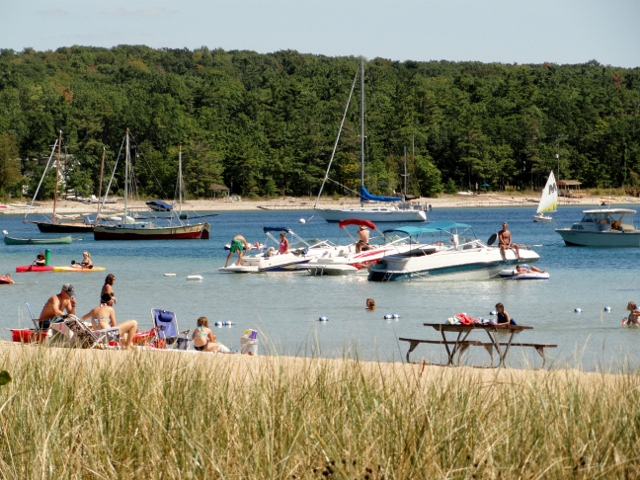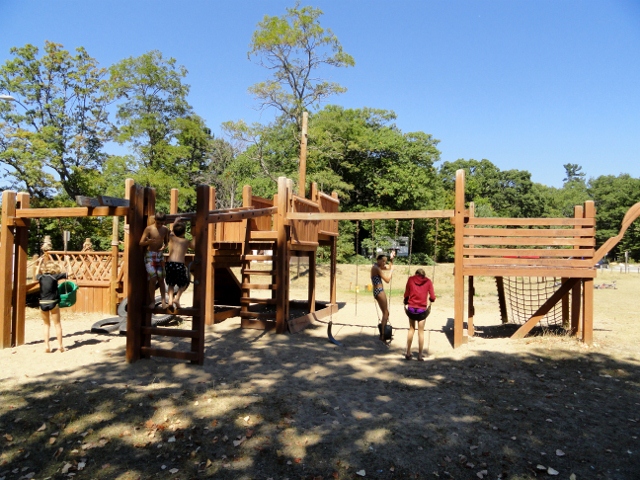 Bryant Park - The Gateway to Old Mission
Bryant Park is located at the intersection of Garfield Road and Peninsula Drive, right at the base of Old Mission Peninsula. It is located one block North of the light at Garfiled and Munson. Bryant park has one of the sandiest beaches anywhere in the region for easy access to West Bay. Whether you are looking for a place to picnic, play frisbee or just watch the sunsests, this is the beach to be at.
Bryant Park facilities include a nice restroom/changing room, picnic tables, playground equipment, grills and great parking. The park is open year round from 7 AM to 11 PM. Bryant Park features lots of room to play, with hundreds of feet of sandy beach and a large grassy area and plenty of shade trees. Make sure to visit Bryant Park at sundown for some of the best sunsets over West Bay.
Bowers Harbor Park
This large park is located on Bowers Harbor Road, which runs from Peninsula Drive to Center Road about 8 miles out on Old Mission Peninsula. There are many recreational activities available here. The park consists of the following ammenities;
Tennis and volley ball courts Softball/baseball and soccer fields 2 playgrounds Picnic area and pavilions Trails Restroom facilities Basketball court
There are three pavilions that can be rented for a fee. Please visit the township site for additional information.
Lighthouse Park - Old Mission Point Park
Located at the very end of Old Mission Peninsula, these two adjoining parks are considered the most popular destination on the Peninsula. Featuring the historic Lighthouse, the park also offers miles of trails for hiking, biking and skiing, public access to the beach and many other great attractions. There is plenty of on site parking, including room for buses and cars with trailers. The historic lighthouse is open for tours and features a nice gift shop. There is also an historic log home set up just like the original structure. The bathrooms and beach at the lighthouse park are suitable for handicap access.
Pelizzari Natural Area
This natural area is located near the base of the Peninsula on Center Road andfeatures a mix of old orchards, meadows and wooded forests and has a three mile trail through it. There are over 60 acres to explore and it is perfect for hiking or snowshoeing.
Archie Roadside Park
Archie Park is located off of Center Road, just before Bluff and Gray Roads. It consists of a nice parking area, rustic toilet, hand waterpump, picnic facilities and a swingset. Archie Park also offers access to East Bay. This park is often used as a parking area for bikers and roller bladers to access Bluff Road and the rest of the Old Mission Peninsula.
Cultural Center/Historic Church
This small township park offers a glimpse of history on the Old Mission Peninsula.
---
Old Mission Boat Ramps
Boat Launches
The Old Mission Peninsula has access to some of the best boating in the country. From these boat ramps, you can motor to Power Island, Suttons Bay, Downtown Traverse City or atnywhere else in the world if you like. The Old Mission Peninsula has three nice boat ramps, two on East Bay and one on West Bay. All three ramps have nice facilities and are easy to use for boats of all sizes.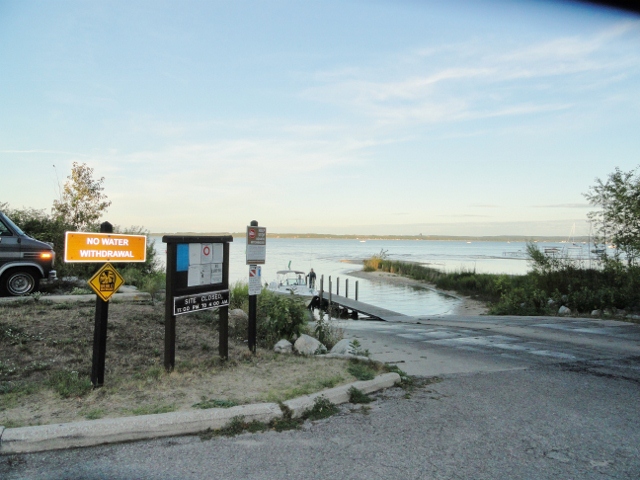 East Bay Boat Launch
Located on Center Rd about 4 miles out on Old Mission Peninsula. This Old Mission Peninsula boat launch is typically dredged and deep enough for most boats. There is ample parking for all but the busiest days. This boat launch gives boaters easy access to everything in East Bay, including Acme and the Miracle Mile beaches. There is no beach or swimming areas at this ramp. Facilities include good parking and restrooms.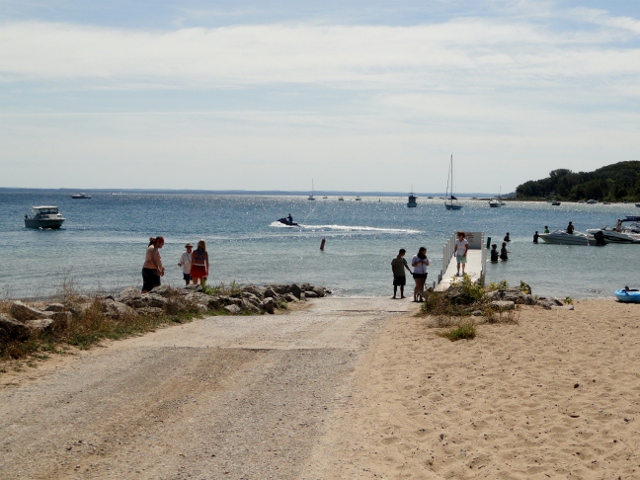 Haserot Boat Launch
This township park has a nice boat ramp and the facilities include a great swimming beach, playground equipment, toilets and basketball. Haserot Beach is one of the nicest beaches in the region and a good place to spend any summer day. There is a paved, single boat ramp with a good dock and plenty of parking in the lot and down road. Click here for more details on the Haserot Beach park, including additional photos, information and directions to this Old Mission Peninsula destination.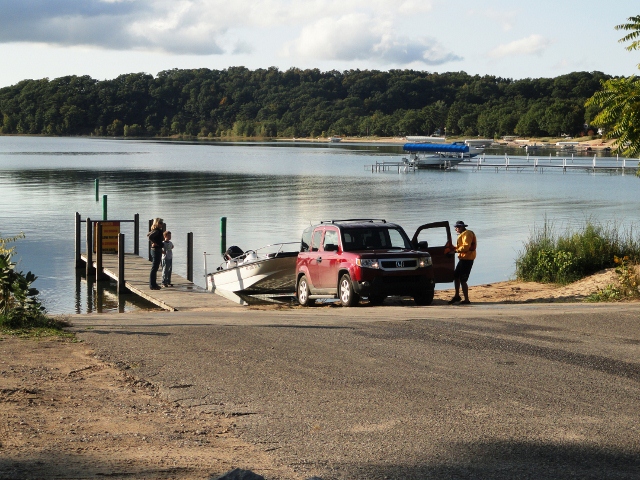 Bowers Harbor Boat Launch

Located on West Bay in famous Bowers Harbor. This boat launch features a nice dock and two ramps. There is plenty of parking and the boat ramps are deep enough for most boats. You are an easy boat ride out to Power Island and not far from Suttons Bay. The boat ramp is located off of Ne Ah Ta Wanta Rd. Take Peninsula Drive North or Center Road to 7 Hills (veer left) to Bowers Harbor Road (L) to get to Ne Ah Ta Wanta Rd.
Old Mission Peninsula Dining
Interactive Old Mission Peninsula Food and Drink locations
Mission Table Restuarant and Jolly Pumpkin Restaurant & Brewery
Located about 8 miles from town on Peninsula Drive, this is a great combination of an upscale dining experience and a warm and friendly tavern/brew pub. It starts with a large patio overlooking Bowers Harbor. Food and beverage service is available and amenities include a large fireplace on the patio overlooking West Bay.
13512 Peninsula Dr Traverse City, MI 49686 Mission Table Website Jolly Pumpkin Website
The Boathouse

Restaurant

The Boathouse Restaurant is located right on the shores of Bowers Harbor and West Bay, featuring exquisite dining with exceptional views over the water. Whether dining inside or on the bayside deck, guests will enjoy a memorable experience in a casual cottage atmoshere.

14039 Peninsula Drive Traverse City, Michigan, 49686 Boathouse Website
Peninsula Grill
The Peninsula Grill is located in the heart of the Old Mission Peninsula and features steak, fresh seafood, pasta and pizza in a casual atmoshere. Open year round for lunch and dinner, the Peninsula Grill also has seperate rooms for parties and is perfect for both small and large gatherings.
14091 Center Road Traverse City, Michigan Peninsula Grill Website
Bad Dog Deli
Old Mission Peninsula's finest deli is located adjacant to the Peninsula Grill in Mapleton and the heart of the Old Mission Peninsula. There are tables available for dining or, or take out any of the great provisions, including daily specials, fresh sandwiches, homemade pizza and beer/wine.
14091 Center Road Traverse City, Michigan Bad Dog Deli Website
Old Mission Tavern and the Bella Galleria
The Old Mission Tavern is an "art gallery" restaurant and offers wonderful cuisine consisting of prime rib, fresh fish and seafood, lamb, steaks, chicken, pastas and soups/salads plus fine art by local and regional artists.
17015 Center Road, Traverse City, MI 49686 Old MIssion Tavern