Wineries
Old Mission Wineries
The Old Mission Peninsula is home to eight wineries and is considered to be one of the best places in the country for growing grapes and producing wines. Old Mission Real Estate and LiveOMP.com presents the following information about the local wineries. We hope the following information is helpful and please take the time to visit all of these great wineries and see for yourself why the Old Mission Peninsula is considered the Wine Capital of the Midwest. Old Mission Real Estate offers this map for the locations of all the Old Mission Wineries
Chateau Grand Traverse
The Chateau Grand Traverse is the original winery on the Old Mission Peninsula. It is located on Center Road, just North of the scenic overview, one of the more popular locations on the Peninsula for views over West Bay. The Chateau Grand Traverse offers guided tours of the winery and has one of the largest tasting rooms in the area. Guest rooms are available with vineyard views.
12239 Center Road, Traverse City, MI 49686 Chateau Grand Traverse Site
Chateau Chantal
The Chateau Chantal offers beautiful views over both West and East Bay and features a year round B & B, along with music, Tapas Tours and wine dinners throughout the summer.

15900 Rue de Vin, Traverse City, MI 49686 (located off of Center Road) Website
2 Lads Winery
The 2 Lads Winery sets up on a hilltop overlooking East Bay with some of the most impressive views anywhere. The extraorinary architecture of this tasting room features a contemporary design with massive glass, steel, stone and concrete, offering a terrific tasting experience. The poured concrete serving table offers a warm and comfortable place to taste their world class red wines while taking in the bay views. 2 Lads winery and tasting room is located at 16985 Smokey Hollow Road, Traverse City, MI 49686 .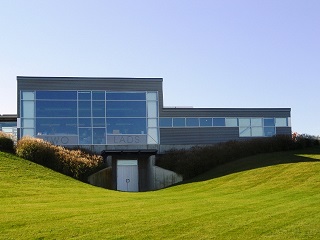 \
Peninsula Cellers
Peninsula Cellars sets on the 150 acre Kroupa family farm and offers a converted 19th century school house for it's tasting room. The high quality fruit results in white wines that have very intense fruit characteristics and bright, crisp, acidity. The tasting room offers wine tasting and sales. Peninsula Cellars is located at 11480 Center Road, Traverse City, MI 49686 Website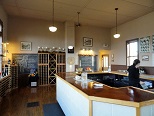 Bowers Harbor Vineyards
The Bowers Harbor Vineyards offers views over the 43 acre vineyard and Bowers Harbor. The warm and friendly tasting room offers a relaxed atmosphere with a nice outside patio area for your enjoyment.Bowers Harbor Vineyards is located at 2896 Bowers Harbor Road, Traverse City, MI 49686 Website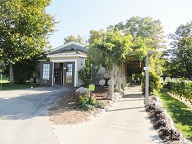 B

rys Estate Vineyard & Winery

Brys Estate Vineyard & Winery sets on over 80 acres and offers views over East Bay. This family owned vineyard and winery features a classic French style tasting room made of brick and mahogany. 3309 Blue Water Road, Traverse City,. MI 49686 Website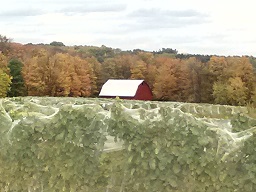 Black Star Farms
Black Star Farms tasting room offers views over East Bay. Black Star Farms is located at 360 McKinley Rd. East, Traverse City, MI 49686 Website
Hawthorne Vineyards
Hawthorne Vineyards is the newest vineyard among the 8 on the Old Mission Peninsula and is located just 4 miles up Peninsula Drive, for easy access to town. The long, peaceful driveway leads up to the ridge top tasting room for exceptional views over both East and West Bay. Hawthorne Vineyards is located at 1000 Camino Maria Dr., Traverse City, MI 49686 (off of Peninsula Drive, 4 miles from town) Website